Les details du dvd "Strong And Proud - 30 Years Of Rock And Metal" à paraitre le 24 juin prochain.
Au programme: 3 concerts filmés en 2013 et 2014, Wacken et deux dates à Dusseldorf (un avec orchestre classique et l'autre sans). Avec de nombreux invités tels que Phil Campbell, Biff Byford, Chris Caffery, Blaze Bayley, Joakim Brodén, Hansi Kürsch, Udo Dirkschneider, Uli Jon Roth, LORDI etc...
Il y aura également un doc de plus de deux heures...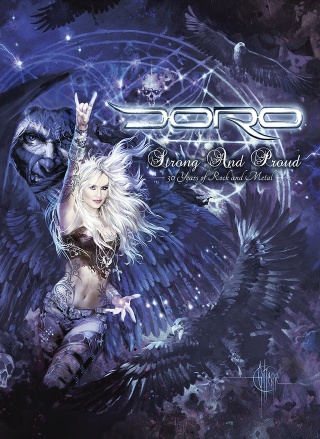 Formats disponibles :
– 2Blu-ray-Digi
– 3DVD-Digi
– CD
– Earbook
– 2LP (black) in gatefold
– 2LP (blue) in gatefold (Mailorder + wholesale)
– 2LP (silver) in gatefold (Mailorder-exclusive)
– Earbook in tote bag (Mailorder-exclusive)
DVD 1
Show des 30 ans donné au Wacken Open Air :
01. Intro
02. Wacken Anthem (We Are The Metalheads)
03. Burning The Witches
04. East Meets West (feat. Chris Boltendahl)
05. Raise Your Fist In The Air
06. Hellbound
07. Revenge
08. Earthshaker Rock
09. Breaking The Law (feat. Phil Campbell)
10. All We Are (feat. Eric Fish, Joakim Brodén & CORVUS CORAX)
Show des 30 ans donné à Dusserldorf (avec l'orchestre classique) :
11. Touch Of Evil
12. On The Run
13. Fear Of The Dark (feat. Blaze Bayley)
14. The Night Of The Warlock
15. You're My Family
16. Above The Ashes
17. Beyond The Trees
18. Hero
19. Princess Of The Dawn (feat. Udo Dirkschneider)
20. Dancing With An Angel (feat. Udo Dirkschneider)
21. Hard Rock Hallelujah (feat. LORDI)
22. Love Me In Black
23. Für Immer (Mix Clip Classic Night/Rock Night)
Show des 30 ans donné à Dusserldorf (sans l'orchestre classique) :
24. Raise Your Fist In The Air
25. Save My Soul
26. Running From The Devil
27. Without You
28. East Meets West (feat. Sabina Classen)
29. Rock Till Death (feat. Hansi Kürsch)
30. Bad Blood (feat. LORDI)
31. Denim And Leather (feat. Biff Byford)
32. Out Of Control
33. Wacken Anthem (We Are The Metalheads)
34. Metal Racer
35. Herzblut
36. Burn It Up
37. Balls To The Wall (feat. Udo Dirkschneider)
38. All We Are
DVD 2
Documentaire (séquences backstages etc.)
DVD 3 – Bonus
Show des 30 ans donné à Dusserldorf (avec l'orchestre classique) :
01. Celebrate
02. Burn It Up
03. Breaking The Law
04. All We Are
05. Metal Racer
Show des 30 ans donné à Dusserldorf (sans l'orchestre classique) :
06. True As Steel
07. Evil
08. Egypt (The Chains Are On) (feat. Chris Caffery)
09. Revenge
10. Hellbound
11. You've Got Another Thing Comin' (feat. Biff Byford)
12. Fight
13. Drum Solo
14. Ich Will Alles (feat. Andy Brings)
15. Metal Tango
16. Unholy Love
Show des 30 ans donné au Wacken Open Air :
17. Metal Tango (feat. Eric Fish & Frau Schmitt)
18. Drum Solo
19. Für Immer (feat. Uli Jon Roth)
Rock Hard Festival 2015 :
20. Hellbound
21. Für Immer
Tournée russe de 2015 :
22. Touch Of Evil
23. I Rule The Ruins
CD + Digital :
01. On The Run
02. Save My Soul
03. Raise Your Fist
04. Fear Of The Dark
05. Revenge
06. Earthshaker Rock
07. Without You
08. Rock Till Death
09. Egypt (The Chains Are On)
10. Für Immer
11. Hellbound
12. Balls To The Wall
13. You're My Family
14. All We Are