Source : Facebook/SledgeLeatherProject
Leather Leone (chant) et Sandy Sledge (batterie) créent un groupe de metal à San Francisco appelé Rude Girl. Avec Lois LaRue (guitare) et Delphine "
Morphine"
Neid à la basse. Rude Girl obtient même un deal avec CBS. L'histoire est très cool mais trop compliquée pour être racontée... Leather Leone enregistre 5 albums et tourne avec Chastain à travers les USA. Sandy Sledge enregistre avec Fine Print (avec la chanteuse et productrice Sylvia Massy connue pour avoir produit Tool, Johnny Cash, Tom Petty and the Heartbreakers, Slayer, Donovan Leitch ou encore System of a Down). Puis elle continue avec Malibu Barbi et Rev. Jones (avec Stephen Perkins des Jane's Addiction)... Delphine Neid joue de la basse dans The Nuns et meurt accidentellement en 1988. Quant à Lois, elle participera au EP de Malibu Barbi avant d'arrêter la musique.
Leather et Sledge restent en contact , en vie et surtout toujours "
metal"
...
Elles se réunissent à nouveau pour former The Sledge\Leather Project.
Le line up:
Leather -vocals (Chastain, Malibu Barbi EP, Rude Girl)
Sledge - drums (Rude Girl, Warbride, Malibu Barbi, Allison Chains)
Brett Baugh - guitar (Metal Priestess)
BetZe Stephens - bass (Bitches Brew, Allison Chains)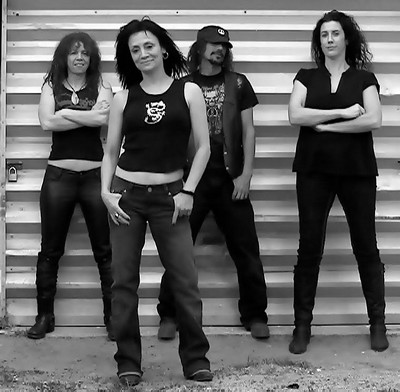 ------------------------------------------------------------------------------
Le groupe était à l'affiche du Keep It True Festival 2011 (le weekend dernier). apparemment ce concert fera l'objet d'une sortie d'un DVD. Un album est en préparation et devrait voir le jour en novembre.
Une petite vidéo du concert de KIT Festival 2011.
https://www.youtube.com/watch?v=qWc2Hyv-Ymc