Death Angel, le groupe de thrash metal de Bay Area, publiera son neuvième album studio "Humanicide", le 31 mai prochain via Nuclear Blast Records . Aujourd'hui, le groupe a dévoilé la pochette, la liste des titres et le premier single de l'album:
Pour ce nouvel opus, Death Angel a travaillé avec le producteur Jason Suecof (Deicide, Trivium) aux Audiohammer Studios pour l'enregistrement et le mixage. La mastérisation est l'œuvre de Ted Jensen (Slipknot, Pantera) et la pochette de l'album est signé Brent Elliott White (Lamb Of God, Megadeth).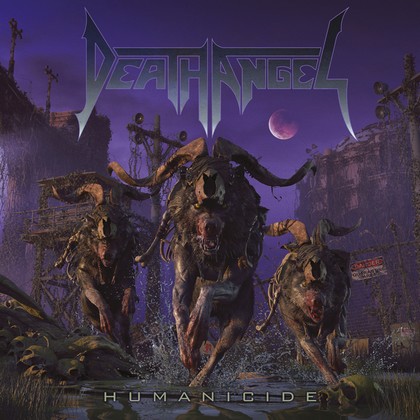 1. Humanicide
2. Divine Defector
3. Aggressor
4. I Came For Blood
5. Immortal Behated
6. Alive and Screaming
7. The Pack
8. Ghost of Me
9. Revelation Song
10. Of Rats and Men
Rob Cavestany | guitare
Mark Osegueda | chant
Ted Aguilar | guitare
Will Carroll | batterie
Damien Sisson | basse
Les premières dates:
02.06. CZ Pilsen – Metalfest Open Air
03.06. PL Wroclaw – Centrum Koncertowe A2 (w/ ARCH ENEMY)
05.06. S Sölvesborg – Sweden Rock
07.06. DK Aalborg – AR&M Nordic Festival
08.06. D Kiel – Max Nachttheater
09.06. D Bremen – Tower Musikclub
10.06. D Erfurt – From Hell
12.06. CH Martigny – Sunset Bar
13.06. I Milan – Legend Club
14.06. SLO Ljubljana – Orto Bar
15.06. D Cham – L.A.
16.06. D Mannheim – MS Connexion Complex
18.06. LUX Esch-sur-Alzette – Rockhal (w/ ANTHRAX, ALIEN WEAPONRY)
19.06. D Siegburg – Kubana
20.06. D Hagen – Kultopia
21.06. B Dessel – Graspop Metal Meeting
23.06. F Clisson – Hellfest
09.08. UK Derby – Bloodstock Open Air
10.08. P Vagos – Vagos Metal Fest
11.08. NL Leeuwarden – Into the Grave
12.08. D Osnabrück – Bastard Club
13.08. CH Pratteln – Z7 (w/ TESTAMENT, SACRED REICH, IRON REAGAN, DUST BOLT)
14.08. D Dinkelsbühl – Summer Breeze
16.08. F St. Nolff – Motocultor Festival
17.08. I Chiaromonte – Agglutination Metal Festival
11. The Day I Walked Away (Bonus Track)