Ben si


"
British heavy metal legends SAXON are seeking a suitable record label to release the band's new album, which is currently being recorded. The follow-up to 2009's "
Into The Labyrinth"
(SPV/Steamhammer), will feature at least one special guest.
In other news, SAXON frontman Biff Byford met Lady Gaga backstage at the American pop singer's recent concert in London, England. Byford writes on SAXON's official web site, "
Got passes to see Lady Gaga for my daughter, but she couldn't go so I went with our agent, Steve. As we walked backstage, we met the manager of heavy metal DJ Lady Starlight and a couple of members of the support act SEMI-PRECIOUS WEAPONS and they invited us back to the dressing room for a drink. As we drained our glasses, we said thanks and say hello to Lady Gaga from us.
"
The show was great, [and] we went off to the backstage bar for another drink. Suddenly Lady Starlight came in and said that Lady Gaga would like to meet us. Tthen we had a fantastic 50 minutes with Miss Gaga, who is a massive heavy rock fan and SAXON fan talking everything rock. She's a great lady and it was a great privilege to meet her."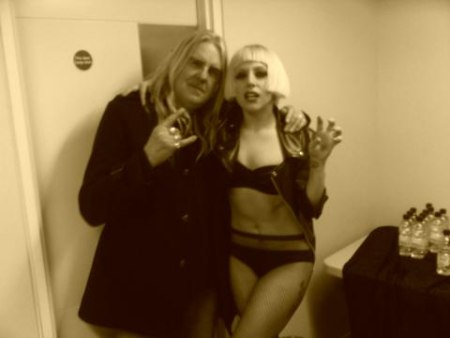 Sinon, on apprend quand même que le groupe est à la recherche d'une maison de disque pour le prochain album qui est terminé et sur lequel il y a un invité très spécial ...